Digital Video Camera Troubleshooting
The following downloads, links and general information have been provided to help you if you are having trouble with your equipment. If this doesn't answer your query please get in touch on 0845 600 7272 and we'll be happy to help you.
I am/desktop-computer-rental/, have plugged in all cables but the screen is not giving a picture. How can I fix this?
After you have finished taking the footage, insert the CD/DVD bundled with the camera and the USB cable, connect the USB cable to the printer and the computer and use the software provided to download the movie(s) onto your computer.
There is a built-in hard drive on the digital video camera I rented from Hire Intelligence. Is there a way that I can transfer my videos from the camera to my computer or on to a DVD?
Once you have completed your footage insert the DVD together with the camera and USB cable, connect the USB to your printer and PC then you can use the provided software to download the relevant movies on to your PC.
I'd like to use the Mini DVD Drive on the digital video camera that I hired. Specifically how do I get my movies burnt to a Mini-DVD disc?
Once you have turned the camera on select the relevant model below and follow the instructions. If your model is not listed below please contact Hire Intelligence on 0845 600 7272 and we'd be happy to help.
Canon DC22
To perform the finalising power it up first
1. Initialise the DVD-RW prior to using it
To perform the camera initialisation power it up first
Once the new disk is inserted you should see an initialisation message
For format type choose the video option
The disk should now be ready for use
Please follow these instructions if the above procedure does not occur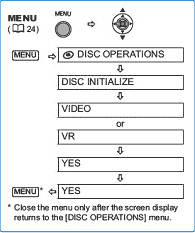 2. Finalise the disc after using it
Follow the instructions below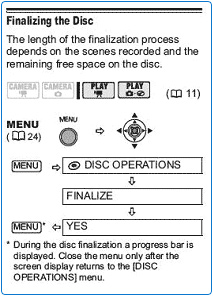 Panasonic VDR-D150 / VDR-D160
If the above process does not happen follow these instructions
1. Initialise the DVD-RW prior to using it
To perform the initialisation power it up first
Once the new disk is inserted you should see an initialisation message
Be sure to choose Video format during initialisation
The disk should now be ready for use

2. Finalise disc after use
To perform the finalising power it up first
Follow the instructions below